Bradley Marianno, University of Nevada, Las Vegas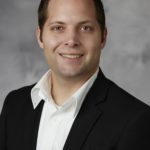 Bradley D. Marianno, Ph.D., is an assistant professor of educational policy and leadership and Director of the Center for Research, Evaluation, and Assessment at the University of Nevada, Las Vegas. His research focuses on educational governance, teacher labor policy, teachers' unions, and collective bargaining.
http://bradmarianno.faculty.unlv.edu/
---
Family Business: Education Governance & The Dinner Table
April 13, 2021 by Brad Marianno
My dad called education the "family business." He taught for over 25 years in a mid-sized district in Northern California before turning to administration for the last decade. During his teaching career, both my grandparents (his dad and step-mom) served on the school board of the district. They debated policy endlessly, sometimes agreeing on recent board decisions and other times disagreeing vehemently. I ate my dinner and watched.
I resisted the "family business" while an undergraduate student in sociology at Brigham Young University. I went on to receive a research-focused master's degree in sociology, studying innovation in business teams. But I got bored of that real fast. I loved research, but I tired of the research topic. I considered what topic might rejuvenate my research interests and that is when I circled back to the family business and the scientific study of education.
I received my Ph.D. in urban education policy from the University of Southern California, with a specific focus on education governance and interest groups. With local control still a key touch-point in our nation's education policymaking, school boards wield a tremendous influence over the schooling experience for kids. That's why those policy debates at my grandparents' dinner table mattered so much to all sides involved. That's why school boards still matter today and it's why I seek to apply my research expertise to the study of effective school board governance.